Artist's Bios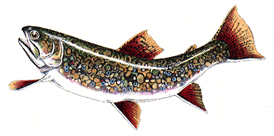 Naturalist-artist David M. Carroll, who in 2006 was named a MacArthur Foundation Fellow, is the author of three acclaimed natural histories: THE YEAR OF THE TURTLE; TROUT REFLECTIONS; and SWAMP-WALKER'S JOURNAL. The latter was awarded the John Burroughs medal for distinguished nature writing. This "wet-sneaker trilogy" was expanded to a quartet with the publication of his memoir centered on his lifelong connection with turtles and their habitats, SELF-PORTRAIT WITH TURTLES.
His fifth book, FOLLOWING THE WATER, A HYDROMANCER'S NOTEBOOK, published by Houghton Mifflin Harcourt in August 2009, was awarded a Finalist Medal in the nonfiction category by the National Book Foundation. David is a graduate of the School of the Boston Museum of Fine Arts and Tufts University. He has received an Honorary Doctorate of Humane Letters from the University of New Hampshire and an Honorary Masters in Environmental Science from New England College.
In addition to his own field work, David has conducted investigations for the Endangered Species programs of New Hampshire, Vermont, and Maine; as well as for such agencies as the U.S. Environmental Protection and the National Park Service. His fieldwork has been published in scientific journals, including Chelonian Conservation and Biology and Northeastern Naturalist.
David and his work have been the subject of numerous articles and interviews, and his artwork has been widely exhibited. He is an active lecturer and turtle and wetlands preservation advocate; among awards he has received are an Environmental Merit Award from the U.S. EPA and NH Audubon's Tudor Richards Award.
David M. Carroll's online journal is DavidMCarrollJournal.com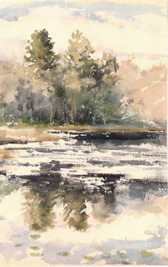 Laurette Carroll studied at the School of the Museum of Fine Arts, Boston. She works in oils, acrylics, watercolors, and pastels, often using mixed media and integrating drawing and collage elements into her paintings. Her approaches range from naturalistic to impressionistic and abstract. Landscapes, in particular rivers, marshes and swamps, are a primary theme in her work, which is painted directly from nature as well as from memory and imagination. Gardens are another key focus, and at times she incorporates writing from her garden journals into her paintings of sunflowers, poppies, delphiniums, and garden landscapes.
In recent years she has employed a tonalist technique, working in oils to create evocative landscapes that come directly from imagination. She has also recently returned to clay sculpture, working on an extended series of figure studies in terra cotta and other clay bodies.
Laurette's work has been exhibited widely, and her paintings and sculptures are featured in many private collections, including those in New York, Boston, Chicago, Amsterdam, and Berne.

Riana Frost's unique paintings of wildlife on wild turkey feathers are a natural outgrowth of her upbringing in a family of artists and her inclination for drawing and painting on less-than-traditional surfaces such as stones, birch bark, and artist's fungus. She works in acrylics, employing fine brushes to portray favored subjects, which range from deer, wolves, bear and moose to loons, chickadees, and nuthatches. Even on so small and delicate a "canvas" she provides each with an ambience reflective of its natural environment, artfully integrating the texture and patterns of the individual feather to reveal seasons and surroundings, from a wolf's breath in arctic winter air to sprays of water tossed up by combative bears in a stream. Her feeling for and intimate familiarity with her subjects and their places in the wild are readily apparent in her detailed work, which is expressive as well as naturalistic. Riana and her remarkable paintings have been the subject of many articles and television features, including "New Hampshire Chronicle, and her work hangs in such faraway places as Austria, Japan, Ireland, and South Africa. In addition to Carroll Studio Gallery her feather paintings are on exhibition year-round at the Gallery at Mainstreet Bookends in Warner and the Flying Goose Pub in New London, NH.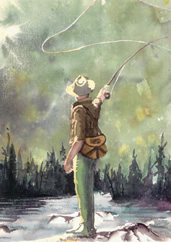 As he was born into a family of artists, art has always been an integral part of Sean's life. At age 15 he was apprenticed to the potter Dwight Graves. In later years he studied watercolor techniques with Byron Carr, who subsequently introduced him to oil painting. Although he still works in watercolors at times, in recent years Sean's primary focus has been with painting in oils. The New Hampshire landscape, with which he has been intimately connected since boyhood, is his most frequently visited theme. But he also ranges farther afield in New England, to favorite sites in the White Mountains, along rivers and streams in Vermont, and the coast of Maine. He is a dedicated plein aire artist, with his evocative landscapes being done almost exclusively directly from nature. His bond with his natural surroundings and the immediacy with which he works are readily apparent in his paintings.
An artist with carpentry as well, he is adept at restoring old houses, or building additions or extensions in total harmony with the existing architecture, as can be seen in our studio-gallery, created in an outbuilding across from our 1790 colonial in Warner Lower Village. Sean has built his own family's house, and recently added a studio, in which he has returned to working as potter and sculptor while continuing with his painting.
To purchase any of our products, please visit our Gallery page.
If you would like photos sent to you or any additional information, please Contact Us.